If getting there is half the fun we want to help you enjoy your roadtrip to Riverside. There is much to discover on your way, including fantastic restaurants, charming shops, and picturesque viewpoints. Whether you're traveling from Traverse City, Manistee, or Glen Arbor, make sure to bookmark this post for your road trip to Riverside. Throw on your swimsuit, secure your sunglasses, gather your essentials and hop on as we share a road trip guide with our favorite stops for the perfect day trip.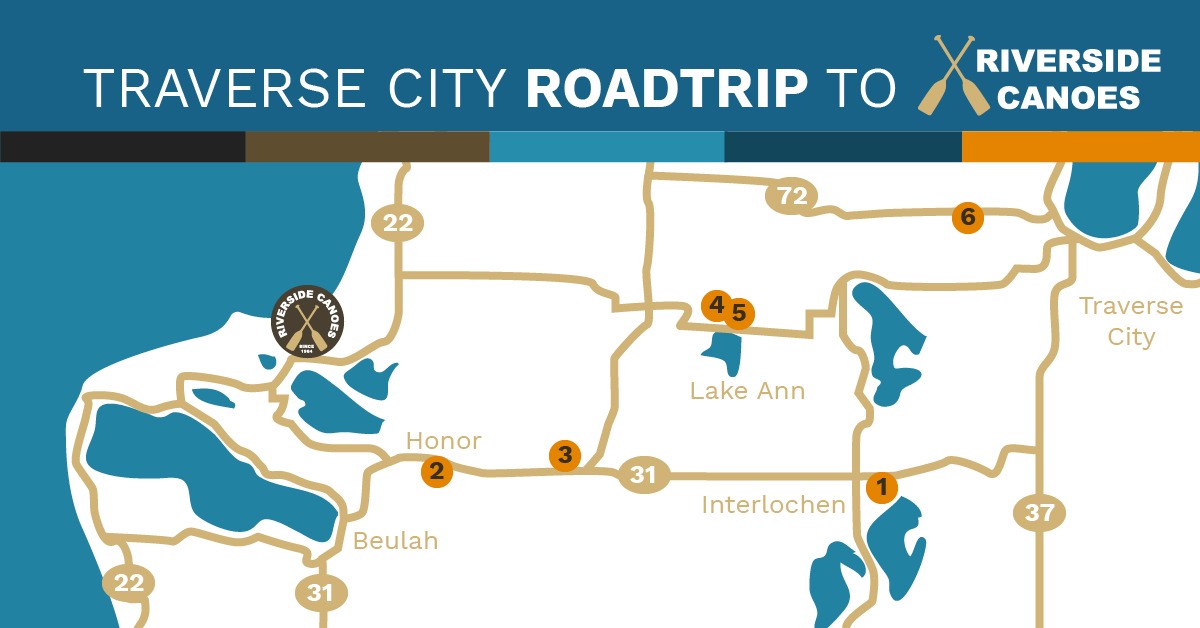 Road Trip From Traverse City
On Your Way
Coffee Shops &

Eatery Stops

Depending on when you hit the road from Traverse City, there are many great coffee shops and eatery stops along your road trip to Riverside. If you follow US-31, eat at Oaky's Tavern (1) in Interlochen for some tasty comfort food. If you are after a mid-day treat of great food and cold drinks, hop off at Sweets Bar & Grill (2) in Honor.
Points of Interest
Make your road trip to Riverside insightful with a visit to the Platte River Fish Hatchery (3). As the primary salmon hatchery in Michigan and home to the Great Lakes salmon program, the hatchery is responsible for the harvesting of eggs and raising of fish before being planted into our lakes. It is a great place to learn more about local wildlife and our precious aquatic ecosystems.
Heading Home
Dinner & Drinks
Take the scenic route back to TC through Lake Ann and visit Lake Ann Brewing Company (4) for beer & live music. Order food from The Stone Oven (5) next door. Or return along M72 and stop at Jacobs Farm (6) for fresh pizza, drinks on the grass and plenty of room for kids to run and play. It's also a u-pick fruit orchard in season.
Sunset Stops
Head to Clinch Park for an evening stroll and watch the sun go down over West Bay.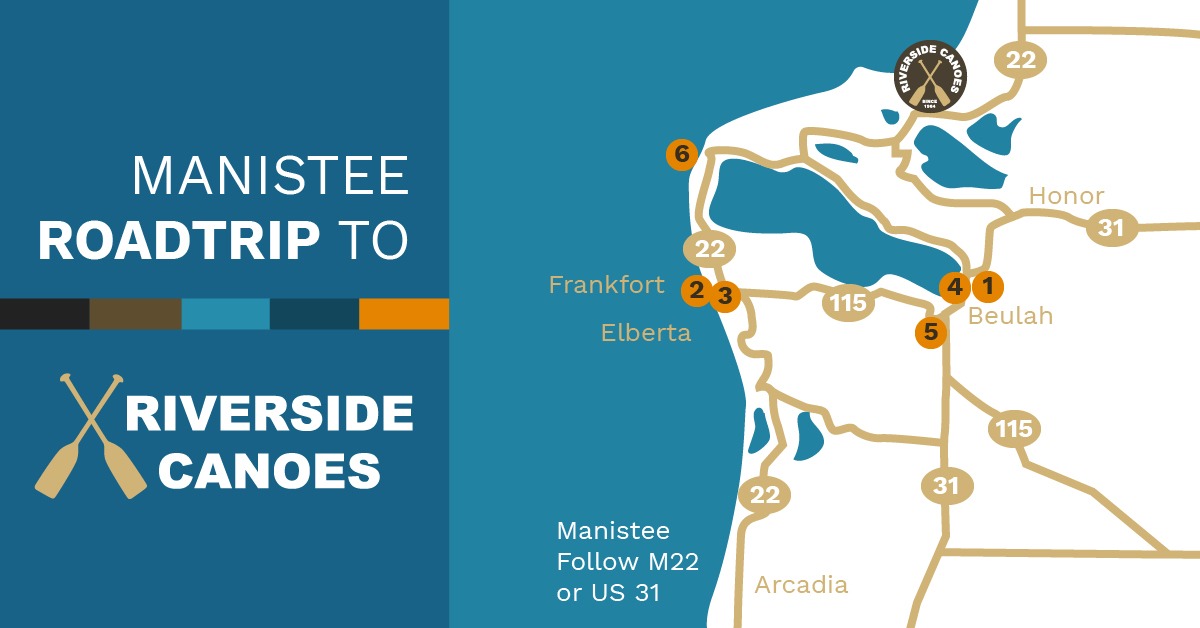 Road Trip From Manistee
On Your Way
A Cherry Good Brunch
If your road trip to Riverside begins in Manistee, you won't want to miss The Cherry Hut (1), a 100-year-old landmark restaurant in Beulah. We recommend the cherry chicken salad and saving room for a fresh slice of cherry pie. And don't forget to buy some of their homemade jams, salsa and treats for your road trip adventure.
Scenic Stops
Take a scenic drive along M22 around beautiful Crystal Lake. Just before Riverside, you'll see Loon Lake. Park here to check out the fishing pier and watch for the eagle. If you decide on a Lower Platte Trip, this is a sneak peek into your river ride that will pass through Loon Lake.
Heading Home
Dinner & Drinks
Fill a growler of beer at Stormcloud (2), grab a pizza at A. Papanos (3) and head to Frankfort Beach to walk the pier and watch the fishermen in the harbor. If you return through Beulah, discover Five Shores Brewing (4). Or, grab a margarita at The Roadhouse (5) cantina while you wait for a delicious Mexican meal.
Sunset Stops
Your road trip is not over until you have watched the sun sink below Lake Michigan. Kick back at Frankfort Beach or head to Point Betsie Lighthouse (6), a great spot to hunt for Petoskey stones. If you are lucky, you might be able to bring home a local treasure from your road trip to Riverside.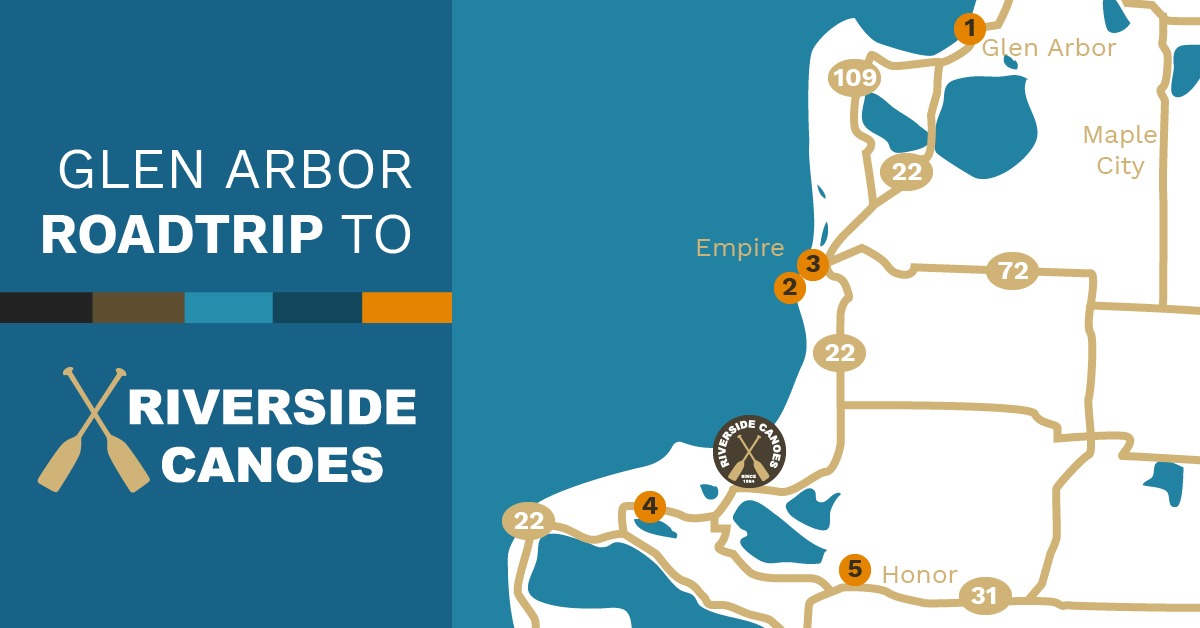 Road Trip From Glen Arbor
On Your Way
Pack a Picnic Lunch
If your starting point is Glen Arbor, you are in for a treat at L'Chayim Deli (1). Grab a freshly baked breakfast bagel, or pack a picnic lunch with their meat and veggies options. Don't skip out on their fresh baked goods, the perfect addition to any picnic basket. Though, we will be surprised if your bakery snack makes it all the way to Riverside. 
Hikes, Lookouts & More
For a beautiful 1.5-mile round trip, look no further than Empire Bluff (2). Offering breathtaking views of Lake Michigan and South Bar Lake, it is quite a rewarding trek. After a hike up, step back in time with a visit to the history museum (3) in Empire to see old photos of the Platte River. 
Heading Home
Dinner & Drinks
Linger longer and enjoy a nice dinner at The Manitou Restaurant (4) on M22, just a few miles from Riverside. You can't go wrong with a basket of Skinny Dippers and their blueberry raspberry pie is the perfect treat.
Sunset Stops
Catch the sunset at the mouth of the Platte and venture back to Riverside for an ice cream cone by the fire. If you happen to be road-tripping on the weekend (Friday, Saturday, or Sunday), the Cherry Bowl Drive In Theater (5) will be showing. Drive in, park up, get cozy in your car and enjoy a movie at dusk for family-friendly end to your Riverside road trip.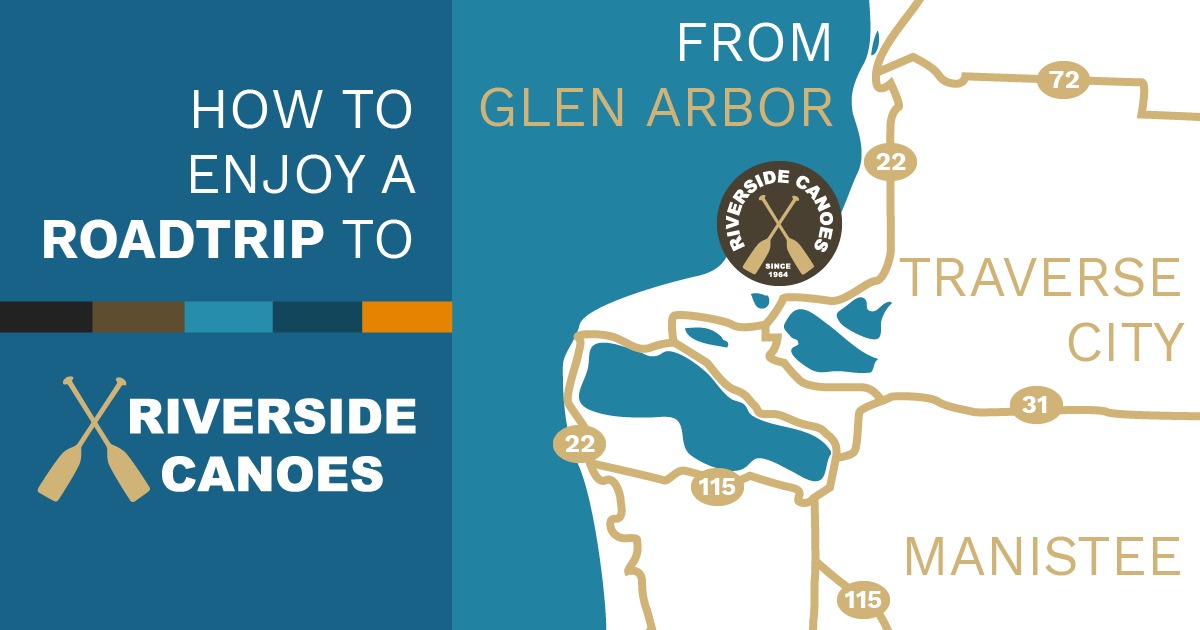 Exploring Riverside
Choosing the right river trip
There are many great trips to pick from at Riverside. From Upper Platte and Lower Platte River adventures, to lazy river tubing and exciting river rafting, choosing the right trip isn't always easy. But don't worry- we have you covered! Check out our blog post, River Trip For Families, to help you discover the best river ride for your road trip to Riverside.
What to know before you go
Road trips are fun, exciting, and filled with the unexpected. To prepare you for a day on the road and the river, have a look at our handy tips for a Platte River Trip. Whether it's understanding the river flow or knowing what to wear and what to bring, we've got the inside scoop on all that and more!
What's in store so you don't have to bring it
When it comes to road-tripping, packing light is key to a stress-free journey. Luckily, at Riverside, we have you covered. In addition to our well-stocked grocery store, we have a convenient gift shop, a grill with delicious meals, and much more to take care of your needs along the way. Visit our website to explore Riverside and help you decide what to bring vs what to leave at home before you embark on your road trip.
How much time to plan to spend on the river
Whether you're seeking a full-day river adventure or prefer a shorter trip to allow more time for foodie stops, local shops, and points of interest, we have the perfect trip for your road trip to and from Riverside. Visit Our Trips on our website, each offering its own unique adventure. And if you have any questions, don't hesitate to call our friendly staff at 231-325-5622.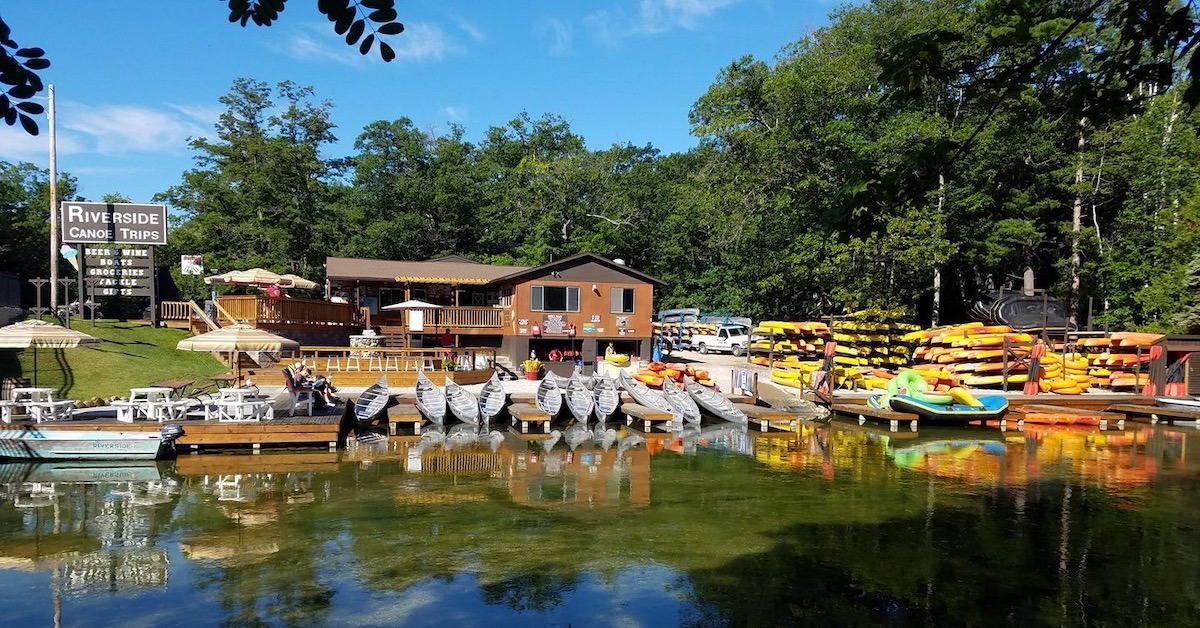 Enjoy your Road Trip to Riverside
Now that you know how to enjoy a road trip to Riverside, bookmark this post, hop in the car, and hit the road to make unforgettable memories. We can't wait to see you!