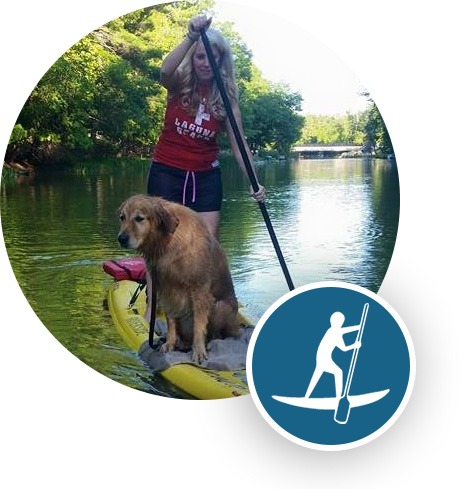 Starting at $44
Elevate your view of the river on a standup paddleboard trip with Riverside Canoes. SUP trips are the new way to navigate the Lower Platte River. Our boards are great for beginners and experienced paddlers alike.
Looking to try paddleboarding? Riverside Canoes on the beautiful Platte River is a great place for beginners to try a standup paddleboard. Located on M22 in Honor, Michigan Riverside Canoes offers one trip for standup paddleboarders. This 2-hour family-friendly float down the Lower Platte River begins at Riverside Canoes and ends at Lake Michigan inside the Sleeping Bear Dunes National Lakeshore.
Tips for Planning a Riverside Paddleboard Trip
We recommend avoiding peak hours between 11am and 3pm for less congestion on the river
There is no storage space on a paddleboard so consider a drypack for personal items like keys and your wallet. There are small straps to attach it to the board.
Paddleboards require some sense of balance and athleticism, but are easy to learn
Backrests are attached so you have the option to sitdown and paddle like a sit-on-top-kayak for a change of pace.
If you have the balance and it doesn't put you over the weight restriction you may bring
your dog . You must follow National Park rules as they apply to the beach access for pets.
Lower Platte River Paddleboard Trip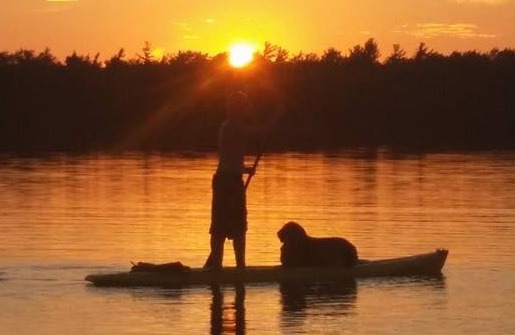 This trip is a great experience for the first-time paddle boarder. The Lower Platte River has a gentle current, average depth of 2-3 feet and shallow warm waters throughout the 2-hour trip. It's the perfect way to get on the water inside the Sleeping Bear Dunes National Lakeshore. The river is wide enough to comfortably navigate without bouncing off the banks, which makes it the perfect choice for first-time paddlers. Your trip begins at Riverside Canoes and follows the Lower Platte River as it flows through Loon Lake and eventually ends at Lake Michigan.
Paddleboarding on the Lower Platte River is quite unique. At standing height your vantage point above the shallow waters gives you a crystal clear view of fish, turtles and the wildlife along the Lower Platte.
Paddleboard Rental Equipment & Safety Tips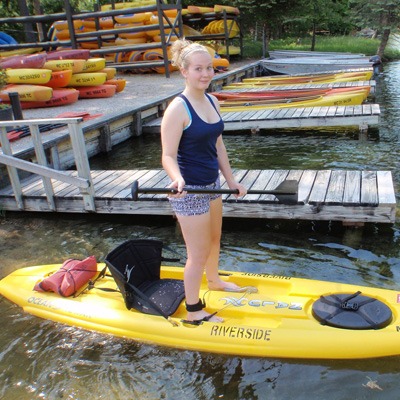 12 ½' Naloo composite standup paddleboard with a backrest.
Fairly stable and great for beginners.
Weight rated for under 240 lbs.
Recommended for ages 10+.
Cushion or lifevest is required for lifesaving equipment.
Extra blade attached can be added in place of the paddle handle if you'd like to sit and paddle like a kayak.
Riverside Canoes equipment cannot go into Lake Michigan, all paddlers must stop at Lake Township Park.