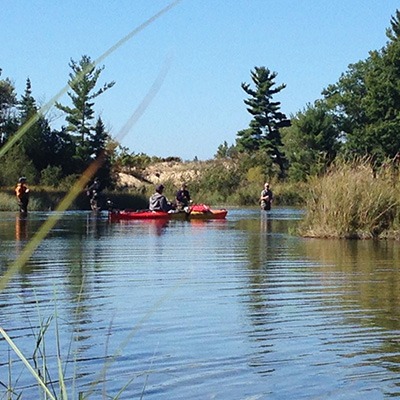 Riverside Canoes offers fishing boat rentals for anglers looking to fish on the Platte River, in Loon Lake or Platte Lake. We are located on M22 in Honor, Michigan inside the Sleeping Bear Dunes National Lakeshore. Our aluminum fishing boat rentals can fit up to five people for a perfect fishing trip in northern Michigan.
Riverside Fishing Boat Rentals
14' deep-V Alumacraft fishing boat
6HP Yamaha 4 stroke motor
3-gallon gas can
Tips for Renting a Fishing Boat at Riverside
Rent a boat for a half day, full day or for the week on Platte Lake
You may motor upstream to fish Platte Lake, or downstream to fish Loon Lake, but do not motor further downstream than Loon Lake
Riverside will transport a boat to other small lakes in the area for a fee, but most people fish nearby
Our boats can be rented as a float boat, paddled without use of the motor
You may paddle from Riverside Canoes to the beach at Lake Michigan with the oars
Reservations are not required, as boats are usually available
Marine recreational fuel with no Ethanol is available at Riverside Canoes
Riverside offers Camping & Fishing Supplies for your last minute needs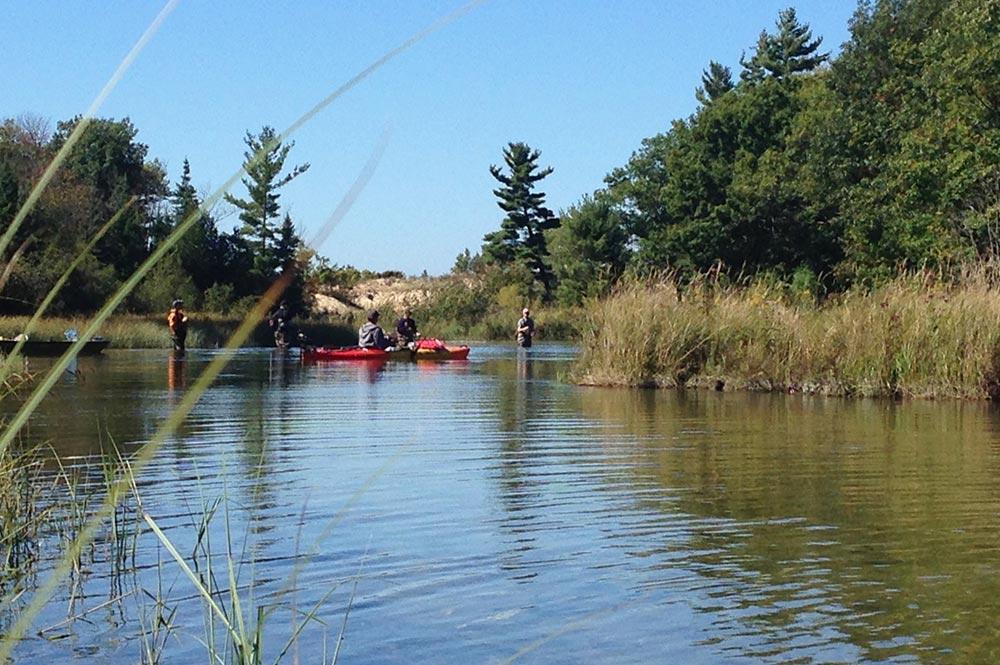 You can expect to find perch, pan fish, small-mouth bass, northern pike, and walleye. In the fall we have a wonderful salmon run with Coho and Chinook salmon who migrate from Lake Michigan upstream to spawn in the Lower Platte River. In the spring, a steelhead run happens in March and April. Fishing restrictions are seasonal and applicable within 300ft up or downstream of the Weir on the Lower Platte River, and the US31bridge to the fish hatchery on the Upper Platte River.
Hook Restrictions on the Platte River
The Platte River is a designated trout stream so only single hooks are allowed. Nothing larger than a size 4 hook.
No treble hooks allowed in the river.
Treble hooks are allowed on Loon Lake, Platte Lake and Lake Michigan
See Michigan DNR rules for complete details on regulations, fishing seasons
Riverside Fishing Equipment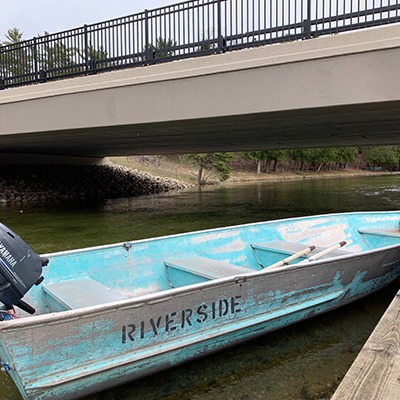 Riverside Canoes is an authorized agent for Michigan DNR fishing license.
Terminal tackle for downrigger fishing in the fall.
Variety of flies for Coho run and fresh spawn.
Hooks, bobbers, small rods, nets and kid's rigs perfect for dock fishing.
Leaf worms and crawlers available, but no minnows.

We sell the renowned BLACK ARCTIC SPINNER!

We also sell the BEST fish batter in town.