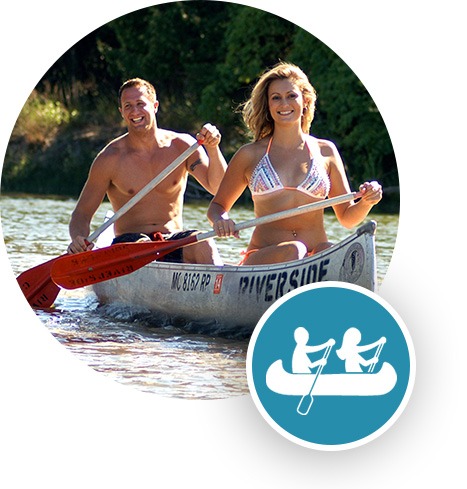 Starting at $52
Experience the tradition of traveling Michigan's freshwater rivers by canoe. Riverside Canoes is the only private business operating inside the Sleeping Bear Dunes National Lakeshore. We offer canoe trips on the Upper and Lower Platte River.
Go canoeing with Riverside Canoes on the beautiful Platte River, located on M22 in Honor, Michigan in the Sleeping Bear Dunes National Lakeshore. There are two trip options for canoers: a two-hour family-friendly float down the Lower Platte River that ends at Lake Michigan, or the faster water Upper Platte River trip, which is approximately a three-to four-hour float.
Tips for Planning a Riverside Canoe Trip
To avoid congestion on the Lower Platte River plan your trip before 11am or after 3pm.
A fall canoe trip is a great way to enjoy Sleeping Bear Dunes and experience the salmon run on the Platte River.
The Upper Platte River is for experienced paddlers only.
If you're canoeing with more than one child consider pulling a tube. The Weir is a great half-way point where the kids can switch places.
Backrests are highly recommended for people in paddling positions.
Canoes are a perfect choice if you plan to bring your dog, but please follow National Park rules as they apply to the beach access for pets.
Canoe Trips on the Lower Platte River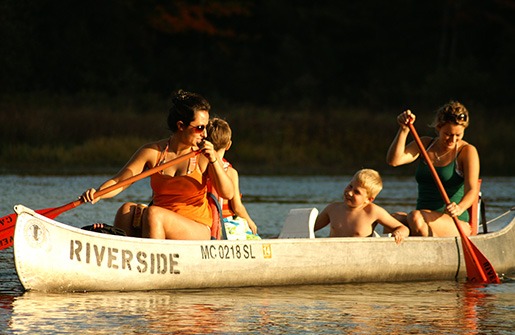 Lower Platte River Canoe Trip
Canoers on the Lower Platte River can expect a gentle current, and shallow warm waters along a 2-hour trip. It's the perfect family outing inside the Sleeping Bear Dunes National Lakeshore. The average river depth is 2-3 feet and is wide enough to comfortably navigate without bouncing off the banks, which makes it the perfect choice for beginners. Your trip begins at Riverside Canoes and follows the Lower Platte River as it flows through Loon Lake and eventually ends at Lake Michigan.
Choose this trip if:
You are a beginner looking for a slower river, where you are less likely to tip.
You want to spend the whole day on the river and along the Lake Michigan beach with our Unlimited Time option.
You are traveling with a large group.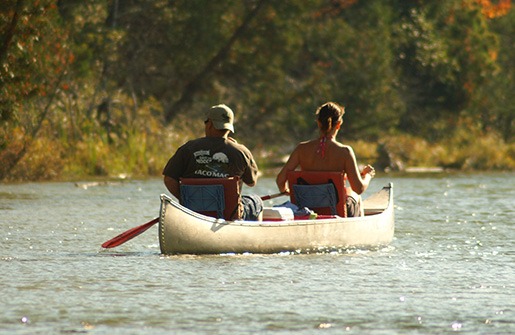 Upper Platte River Canoe Trip
The Upper Platte River trip is a rockin' good time, for experienced paddlers only. You have to be on your game the minute we drop you off at the dock, where the river is at its fastest point. If you aren't experienced it can be a long, wet trip with some scrapes. The water is 2-3 feet deep, with tight curves, fallen trees, bridges and culverts. Plan on a 3-4 hour trip on the water. Drivers will follow the shuttle from Riverside to the landing above Platte Lake, leave their vehicle and board the shuttle. Paddlers will be dropped off the starting point at Veterans Memorial Park along US31 near the fish hatchery outside of Honor.
Choose this trip if:
You want the closest thing to a white water river trip in this part of Michigan.
You don't mind getting wet, as there is a tip-over rate of approximately 50%.
Swimming is not part of your plan. This is spring-fed water that never gets above 65 degrees.
Safety Tips for Canoe Rentals in Michigan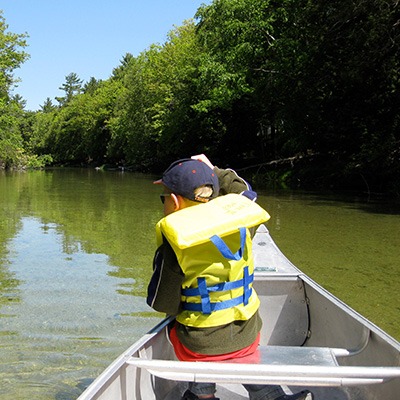 Canoes can be more tippy than kayaks and are more affected by wind.
Never stand up in a canoe, keep your center of gravity low.
Sit and paddle from the bottom of the canoe if you are nervous about tipping over.

If 1 middle rider, there is no height restriction. If 2 middle riders, both must be under 4 and a half feet tall (two young children) for safety reasons.

Children 8 and under must wear a Coast Guard approved life jacket.
Riverside Canoes equipment cannot go into Lake Michigan, all paddlers must stop at Lake Township Park at the end of the Lower Platte River trip.
Riverside Canoe Equipment
Mostly 17' aluminum canoes with aluminum seats in the front and rear.
Some smaller canoes are available for adults going solo or one adult with a small child.
Most canoes allow for 2-3 people, but some canoes can accommodate a family with two small children.
Everyone receives either a cushion or life jacket for a lifesaving device.
Middle-rider seats or kid chairs rent for $1 for comfort and balance Paddles are provided for adults, child paddles are available for $1.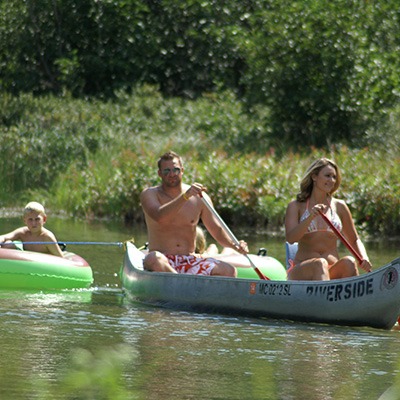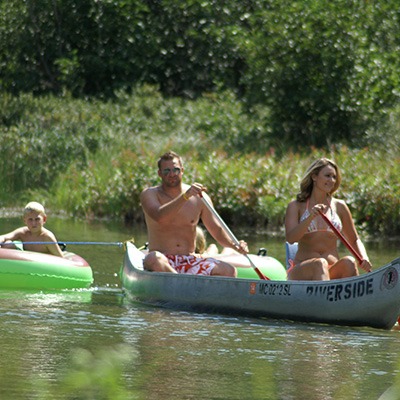 Mostly 17' aluminum canoes with aluminum seats in the front and rear
Some smaller canoes are available for adults going solo or one adult with a small child
Most canoes allow for 2-3 people, but some canoes can accommodate a family with two small children.
Everyone receives either a cushion or life jacket for a lifesaving device
Middle-rider seats or kid chairs rent for $2 for comfort and balance Paddles are provided for adults, child paddles are available for $1