The Grocery at Riverside Canoes is there for all those last-minute camping and beach day needs. We have dry goods and refrigerated coolers to help you stock up for a day on the river.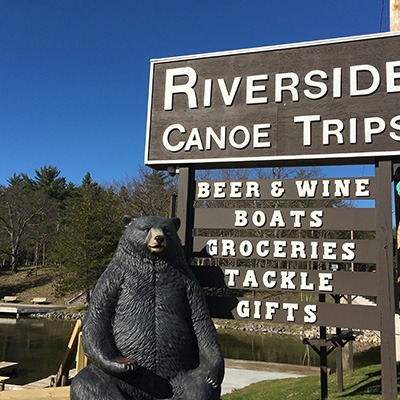 Beverages
Beer by the case • Michigan craft beer • local wine • cider • mead • soda (or as we say in Michigan, "pop") • water • tea • juice
Food
We offer a full grocery line • complete picnic provisions • s'mores supplies • chips & salsa • snacks • popcorn, including fresh popped and Jiffy pop • candy • gum • deli sandwiches • lunch meats • dairy products • ice cream cones • hot coffee & donuts
Ice
We have bag ice for your river trip coolers or for campers
Gas Pumps
Enjoy our retro pumps filled with marine recreational fuel with no Ethanol. It's perfect for boats, jetskis, lawn equipment and vintage vehicles. We take cash and credit cards inside the store.
In Case You Forgot…
Waterproof dry bags • floating dry boxes for personal items • sunglass tubing • water shoes • suntan lotion • clothing • charcoal & charcoal grills • styrofoam and softsided coolers • camping needs • mini drug line