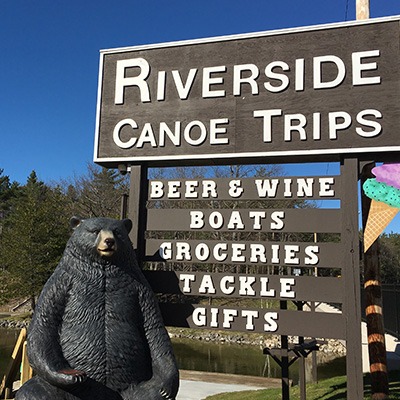 We would like to take a moment and welcome you. Riverside Canoes is the only privately-run business left operating inside the beautiful Sleeping Bear Dunes National Lakeshore, which is definitely a story in itself. We are a small family-run business that strives to provide family fun and lasting memories by renting various watercraft for a fun-filled day on the Platte River. We truly feel this is a magical place. We know you will not be disappointed. We would love for you to be the next family that begins a new tradition of an annual float down the Platte River.
What's Included in your standard trip?
Rental item (Canoe, Kayak, Tube, etc.).
One lifesaving device per person.
Shuttle Service.
Tips for Planning a Riverside Canoe Trip
Riverside, at times, can be a very busy place. This is especially true during holidays and weekends in July/August. Parking can be very limited. To help alleviate this, we ask that all vehicles get shuttled to the rivers' end at Lake Michigan. This shuttle is included with your Riverside rental so that your vehicle is waiting for you at the conclusion of your trip.
Sleeping Bear Dunes National Park
Riverside Canoes is located inside the Sleeping Bear Dunes National Lakeshore. Sleeping Bear Dunes National Lakeshore is a government-controlled park that requires a pass ( $25 weekly or $45 annual ) for anywhere within its borders. This pass allows you access to all areas within the park including its parking lots (including roadside parking when lots are full). The park, unfortunately, does not offer daily passes. This is not a Riverside fee, nor is it a Riverside parking pass. It is a user fee associated with utilizing the park and its attractions. As a courtesy to our guests, the park service has granted us permission to sell park passes on their behalf. If you do already have one, please remember to bring it.
Frequently Asked Questions
Where can I park?
Riverside Canoes is situated on an acre of land inside the Sleeping Bear Dunes National Park.
There is limited short-term parking near the store. This is perfect for first arrival, gas, grocery
visits, returning equipment and ice cream trips. This parking is located near the store at street
level, a lower parking lot behind the store or on Birch Trail across M22.
All vehicles taking a Lower Platte River trip will need to park their vehicles at the end of the trip
at Lake Michigan beach. Drivers will be shuttled to the starting point. There are two options for
beach parking.
The Lake Township lot is a $5/fee, first-come first-served, and is usually full by 11am.
All other parking requires a National Park pass which can be purchased at Riverside Canoes or
through the pay station in the parking lot at the beach. That includes parking along Lake
Michigan Drive.
What's the cost of a National Park Pass?
The park passes for the Sleeping Bear Dunes National Lakeshore are $25 for a weekly pass or
$45 for an annual pass.
Can we get a shuttle if we have our own equipment?
Tubes: if you would like us to haul your tube we charge $6 per single tube, with a minimum of 2 tubes. If you just need the driver returned to the start the cost is $12/vehicle. We charge $12 for double tube transportation, and a minimum of $20 for large floating islands.
Canoes & Kayaks: if you need a shuttle for your equipment (1-3 crafts or 1 vehicle) the cost is $12, for more than 3 crafts or 2 cars, the cost is $24. 
Do you have a Lost & Found?
The most common items lost on the river are car keys, sunglasses and shoes. When they turn up or make their way to our staff we will leave items at Lake Michigan with our man on the beach until the end of the day. Afterwards we try to bring found valuables back to Riverside.
What kind of wildlife can we see on the river?
Nature photographers will find early morning and evening are the best times to see wildlife in their natural habitat. You may encounter deer, muskrats, beavers, turtles, raccoons, wild turkeys, geese, swans, ducks, herons, hawks, eagles and more! We have dry bags and floating dry boxes available at the store to help protect your smartphones and cameras.
What is the water temperature?
The Lower Platte River is shallow and warm in the summer, with temps often reaching 80 degrees or more. The Upper Platte River is spring-fed and water temperatures rarely climb above 65 degrees.
What is Unlimited Time, and why would we need it?
We typically allow 2 ½ hours to complete your trip. If you would like to spend longer on the river we offer an Unlimited Time option for a fee which allows you to have the  equipment all day. Ask about our Unlimited Time when you book your trip. It's worth planning ahead to get the most out of your time on the river.
What is your pet policy?
Pets are welcome in our canoes and kayaks. Pets are not allowed in tubes or rafts that can be damaged by claws. We ask that we not transport pets in our shuttle. At the end of your trip, your pet needs to be leashed and taken directly to your car. They cannot be in the beach or Township Park areas. Please call to see how you might bring your "friend or family member" with you. The National Park has restrictions on having pets in certain areas. Refer to the National Park Service website for information on acceptable locations and policies for your pet.