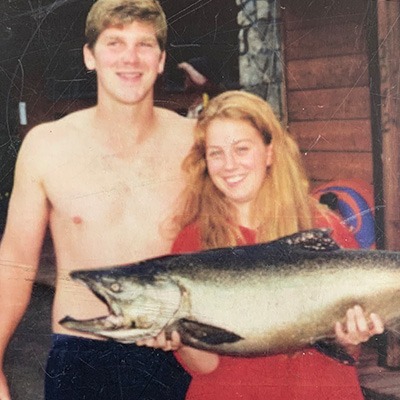 About Riverside Canoes, and a Love Story too
Riverside first opened its doors in 1964. Although, it changed hands several times in the early years it came to be known as Riverside Canoe Trips in 1972. A young couple named Tom and Kathy Stocklen bought it and ran the business for 39 years. Riverside Canoes is the only privately held business within the boundaries of the Sleeping Bear Dunes National Lakeshore. Tom and Kathy employed hundreds of local youth throughout the years. Little did they know two of their dedicated staff would grow up to return and to carry on a livery legacy they fought so hard to build, and protect.
Kelly and I both worked for the Stocklens as teenagers, where we first met one another. A few years later, after college, Kelly and I decided it was fate to be together. We married, and in 1997 we both returned to Riverside as managers. As they say, the rest is history. I worked a total of seventeen years for the Stocklens, and we figure Kelly worked about ten, as she decided it was best to stay at home and raise curtain climbers!
We purchased Riverside Canoe Trips in the spring of 2011 from the Stocklens, and have been blessed ever since. It truly is a family-run business. We have the opportunity to not only work alongside our teenage children, but also our parents and countless nieces and nephews. Our true blessing though is not only our family connection, but the countless other area teenagers, college students, and adults that we get to call coworkers!
It takes almost seventy people to keep Riverside going. It truly is a privilege to have these folks by our sides! One thing that we cherish are the bonds we have made with the kids that we worked with almost 25 years ago. There is something so special about that first summer job. We have made lifelong friends here, and we truly hope those same connections and bonds continue to happen among our staff today. We would have to do some digging and reach back a few years, but we know there have been more than a couple Riverside weddings. It is so great to see now as well, older Riverside alumni sending their children to work with us, to gain those same Riverside experiences.
Last but not least, an important character in our story is you, our customer. We would not be here if it were not for our loyal and enthusiastic customers. We have had the honor of helping out with groups large and small, including family retreats that have been canoeing annually for over 40 years! WOW, we just love our people! We can say from the bottom of our hearts, that we love what we do, we love the people we get to work with, and look forward to every day seeing old friends and meeting new ones.
It is always our goal for folks visiting us, to not just take a trip down the river, but to truly have a Riverside Experience and memories that will last them a lifetime! It is our privilege and honor to be here operating Riverside Canoe Trips today, and for years to come.
See you on the river,
Kyle & Kelly Orr