Tubing on the Lower Platte River is the perfect way to spend a hot day, celebrate, or wash all your worries away. Will you get wet? You bet! How fast does the Platte River flow? We'll let you know. Tubing is relaxing, but the planning can be taxing. Come along with us as we share our top 5 tips for a Platte River tubing trip.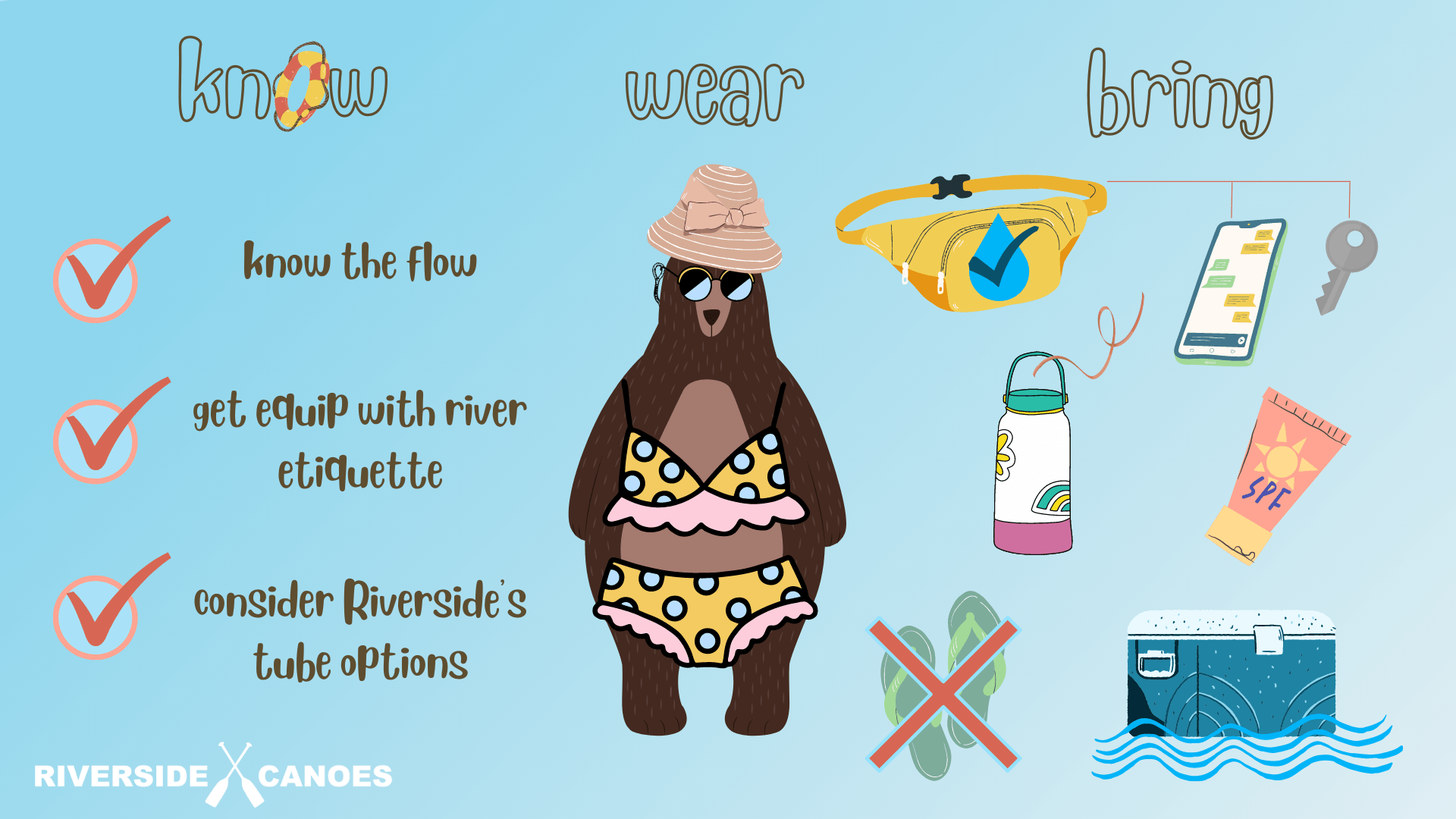 The first thing to do is decide which Riverside tubing trip is right for you and your crew. We offer two tubing trips on the Lower Platte River. The 1-hour Loon and Walk trip, or the 3 1/2 – 4-hour Weir to Lake Michigan trip. When choosing which Platte River tubing trip is right for you, consider the following:
How windy is it?
Strong winds can make tubing a challenge. Our Loon & Walk trip, which leaves from the docks at Riverside Canoes and ends just before Loon Lake, is a good option when it's windy.
How long do you want to float?
Our longest tubing trip is the Weir to Lake Michigan, traveling from just below the fish weir all the way to landing at Lake Michigan beach. This is the best tubing in Sleeping Bear Dunes if you want to play all day.
Do you have young children?
The Loon & Walk is more shallow, and shorter, but it does include a brief walk through the woods to return so bring your water shoes.
Do you want to land on the sand?
The Weir to Lake Michigan tubing trip ends at the Lake Michigan beach where you can swim, and walk the sandy shoreline after the trip.
Once you decide on your ride, it's time to plan a tubing trip. For whichever option you choose, our five tubing tips hold true.
Take note: Not sure a Lower Platte tubing trip is right for you? Find out more about our options for kayaking and canoeing on the Lower Platte River.
There are a few things to know before you go on a Lower Platte tubing trip. We will begin with tip #1: You need to know the river flow.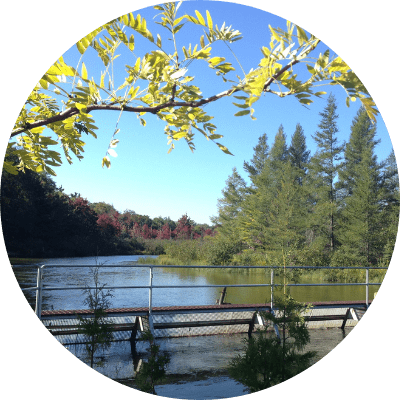 What to Know about the River Flow
When the river is high, it runs slow. High water levels on the Lower Platte River have widened certain areas and slowed the river flow. A slow current on the Lower Platte River means float times can be longer than previous seasons. For current conditions ask our Riverside staff. Keep in mind you may need to paddle or walk at times. The Platte river is clear and mostly shallow, but be aware of a few deeper sections that might be over your head, especially for the kids. And don't forget your water shoes.
Fun Fact: Did you know even lakes have tides? In fact the tide turns four times a day, check out the Benzie County tide chart here.
That brings us to tubing tip #2: Follow the rules of the river.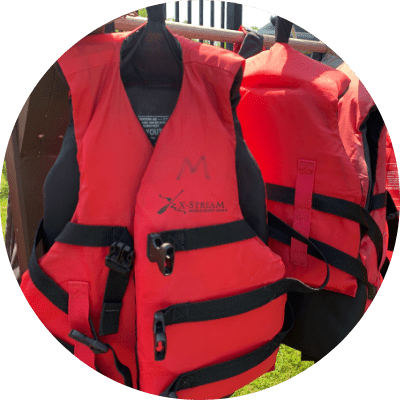 What are the Rules of the River
Before taking any trip it's best to get equipped with river etiquette. You will be sharing the Lower Platte River with visitors of all ages in canoes, kayaks, stand-up paddle boards and small fishing boats. And don't forget about those who call the river home, including wildlife and homeowners. Please be mindful of your language, do not litter, and do drink responsibly. Also, remember you are tubing inside the Sleeping Bear Dunes National Lakeshore, a Federal park. Marijuana is not legal inside the National Park. And remember, no glass on the river please.
Helpful hint: If you are looking for a quieter tubing trip, come early in the morning. At Riverside Canoe Trips we open our doors at 8 am in-season.
Once you know the do's and not to-do's, it's time to see tip #3: Choose the right tube for you.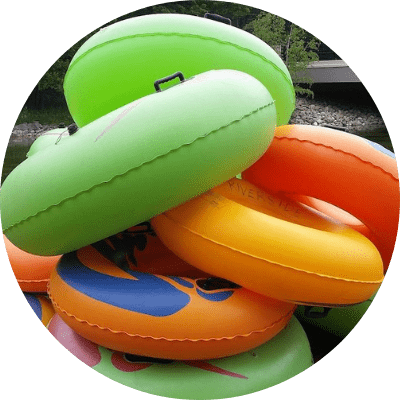 What Kind of Tubes are Available
Riverside Canoes has several options when you rent tubes. We have tubes with or without a bottom, so you can decide how wet you get. All of our rental tubes have cup holders and handles. You should also ask yourself, to tie or not to tie? Tying together is a great way to keep track of young ones or stay close to your loved ones. Keep in mind that large flotillas can be challenging to maneuver in narrow sections of the river. Riverside recommends no more than two to three tubes tied together for the optimal tubing experience.
Did you know: Cooler tubes are available to rent or purchase to keep your cold drinks within reach.
Now that we've covered what to know before you go, we'll share what to wear, for our tip #4: Be careful what you wear.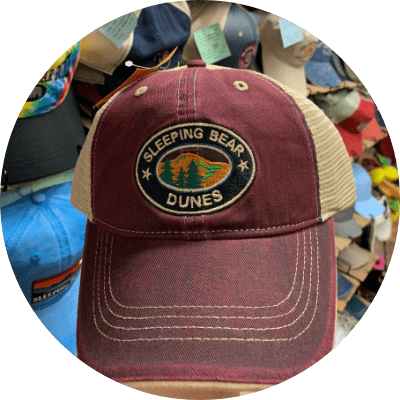 What to Wear on a Tubing Trip
Consider your clothing needs from head to toe: hats, sunglasses, comfortable swimwear, and proper footwear are a must. Say yes to water shoes. Both the Loon & Walk and Weir to Lake Michigan tubing trips involve a short walk on a dirt path or gravel road. Wearing light layers that block the sun is another great option. If you don't have what you need for your tubing trip, or you just forgot to bring it, don't worry. The Riverside Gift Shop has all sorts of water gear. From swimsuits and coverups to water shoes for all ages, we got you covered.
What not to wear: flip-flops. They float alright…right off your feet and down the river. Save them for the car ride home.
While fashion is important, we think the experts shine when they master tip 5: know what to bring and what to leave behind.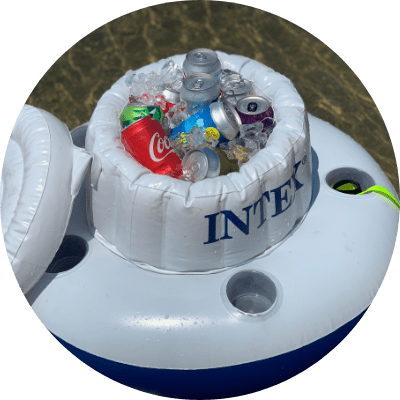 What to Bring on a Tubing Trip
Knowing what to bring on a tubing trip, and what to leave behind is what separates the amateurs from the experts. Let's break it down:
A floating cooler – if your cooler doesn't float, you can always rent a special tube from Riverside for your cooler to ride by your side.
Sunscreen & bug spray – apply it before and throughout your tubing trip.
A waterproof box or bag – perfect for keys and phones.
Connectors –  a sunglasses strap is handy- if you fall in, they won't! Carabiner clips or a nylon straps help attach things your tube handles.
Water – even though you're on the water, it is still important to hydrate!
Don't wing it, bring it: A refillable water bottle attached with a loop is perfect so you leave no trash or glass in the river.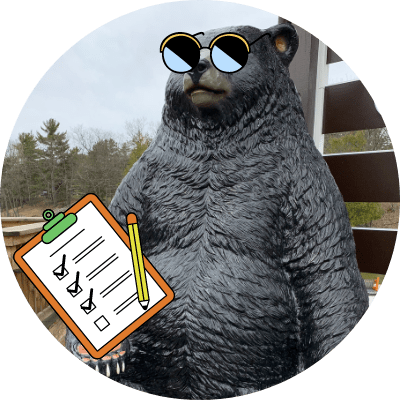 Do you see something on our list that you don't yet have? Or did you accidentally leave these necessities at home or camp? No worries, Riverside gift shop is your one-stop shop for anything you forgot, from sunblock to shoes to waterproof containers. Stop in our grocery store, where you will find pop, beer, snacks and more.
It's time to beat the summer heat with water at your feet. Now that you know all our tips for a Platte River tube trip it's time to book your adventure at Riverside Canoes. To make a reservation, call 231-325-5622. Enjoy the relaxation on a floatation in the beautiful waters of Northern Michigan's Lower Platte River.
Are you looking for other things to do after you tube? Check out our list of 15 things to do while camping in Sleeping Bear Dunes.