A visit to Riverside Canoes isn't complete without a trip through the store. Whether you need something, want something, or didn't know you needed something, you'll find it at Riverside!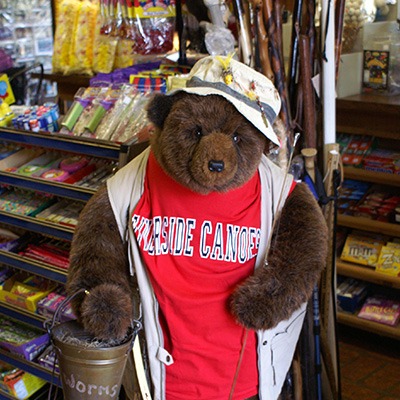 Platte River & Sleeping Bear Dunes Souvenirs
Postcards • Mugs • Magnets • Stickers
More than you can imagine
Clothing
Sweatshirts • T-shirts • Swimsuits • Baseball hats • Cowboy hats • Novelty hats
If you forgot it, we probably have it
Toys for Kids
Many a 12-year-old boy has bought his first pocket knife at Riverside Canoes!
Rubber bow & arrow • Tomahawks • Butterfly nets • Stuffed animals • Rocks
Trust us, the kids love this stuff
Water Toys
Tubes • Fins • Snorkels • Masks • Water shoes • Sunscreen • Bug spray
We've got you covered
Jewelry & Collectables
Petoskey stones, polished & unpolished • Petoskey Stone jewelry • Native American jewelry & crafts
And much, much, more!