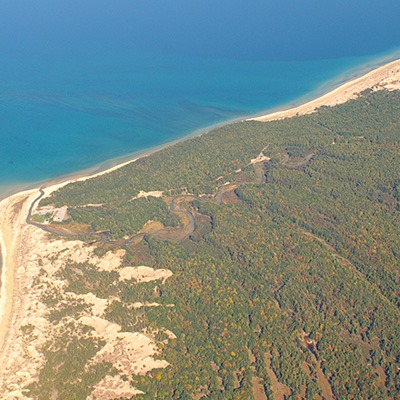 The Platte River wanders for nearly 30 miles across beautiful northwest lower Michigan, from its origin in Long Lake in Grand Traverse County to the mouth at Lake Michigan inside Sleeping Bear Dunes National Lakeshore in Benzie County. The Platte River is creek fed and surrounded by wetlands through much of the journey, passing through 10 lakes before emptying into our
great lakes.
The Platte River plays an important role in the fishing industry. The Michigan DNR operates two facilities on the Platte to maintain and manage fish populations. The Platte River State Fish Hatchery and Weir is located along the Upper Platte River near County Road 669 and US 31. Since 1972 this has been the State's main salmon hatchery. Atlantic, Chinook and Coho salmon, as well as Walleye fry are raised here. The hatchery on the Upper Platte River is the main egg-take station for the upper Great Lakes.
The weir on the Lower Platte River is the primary salmon harvest location. In the fall salmon enter the Lower Platte River at the mouth on their annual migration. They swim upstream to spawn and are stopped at the weir. The weir gate is raised and lowered to count the fish that travel upstream, and manage the harvest. Canoes and kayaks can portage around the weir in autumn and experience this amazing migration in person. It's one of the best times to visit the Platte River in Michigan.
The Platte River offers two distinctly different experiences for visitors seeking to paddle or float on the waterway. The Upper Platte River is fast and exciting. It is not quite white water, but close to it! This stretch of river is clean, spring-fed and boasts a current that will flip nearly 50% of canoes, so be prepared to get wet. A kayak will be easier to navigate through the quick turns and many obstructions. The average depth is 2–3 feet. The clean spring-fed water means river temperatures rarely exceed 65 degrees.
The Lower Platte River is the most popular river to canoe, kayak or tube. It's located inside the Sleeping Bear Dunes National Lakeshore, one of northern Michigan's most famous vacation destinations. With summer water temperatures that linger around 80 degrees, a slow current and shallow clear water this river is perfect for an all-day float.
Riverside Canoes has trips available for canoes, kayaks, tubes, standup paddleboards and even fishermen who want to experience the beauty and fun to be had on the Platte River in Honor, Michigan.