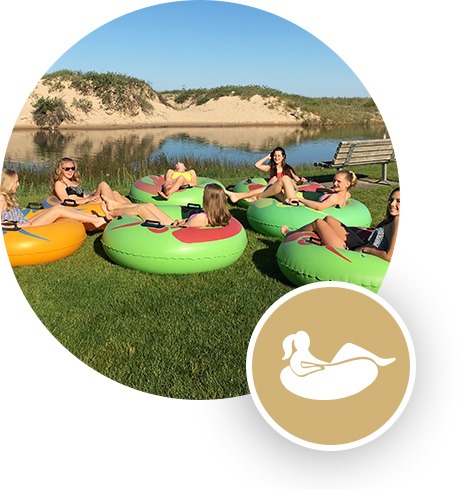 Starting at $10 (1 hour) / $18 (2 hours)
Whether you want a short tube ride with your family, or all day relaxation with a group of friends, a float along the Lower Platte River on one of our tubing trips is a great way to enjoy a northern Michigan summer day.
Tubing the Platte River has become a very popular way to enjoy a visit to the Sleeping Bear Dunes National Lakeshore. Choose Riverside Canoes located conveniently on the beautiful Platte River, along M22 in Honor, Michigan. Riverside offers two tubing trips on the Lower Platte River: a 45-minute float called the Loon & Walk, or a two-hour trip from the Weir to the township park at Lake Michigan.
Tubing Trips on the Lower Platte River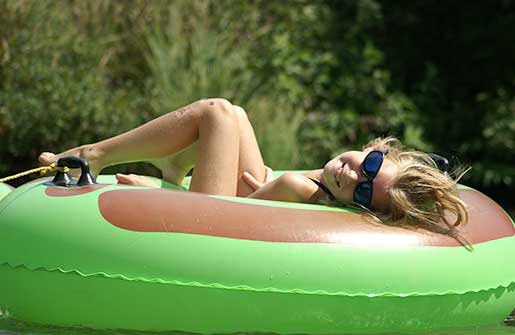 Loon and Walk (1 Hour Trip)
This is our short tubing trip which lasts just long enough to get wet and refreshed! Your trip begins at Riverside Canoes on M22 where you float along the Lower Platte. Plan on a 45-minute float on the water followed by a 10 minute walk back through the woods, carrying your tubes. Make sure to bring bug spray to guard against mosquitos on the walk back.
Choose this trip:
If it's a windy day. This route is less affected by the wind.
If you're short on time or want a quick trip with young children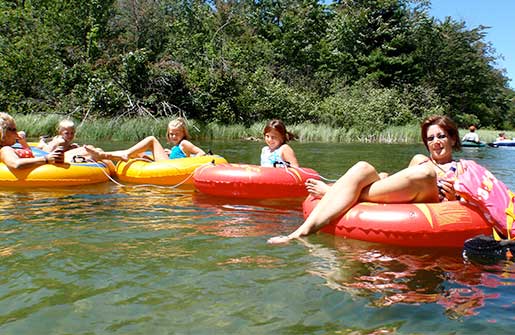 Weir to Lake Michigan (2-3 Hour Trip)
By far the most popular tube trip option. Plan on a 2 ½ hour gentle float downstream to a beautiful Lake Michigan beach. It's a super way to beat the summer heat! Tubers will be transported by shuttle to the Weir gate to start, followed by a short 5 to 10 minute walk on a gravel road to access the river. Expect approximately 2 ½ hours to float to the beach at Lake Michigan. Float time can vary due to wind and current conditions.
*Because of high water on Lake Michigan float times are longer, ranging from 2 ½ to 3 ½ hours depending on wind conditions. Riverside can drop at an alternate site if you feel float time is too long.
Choose this trip:
If you want a longer trip that ends at the beach
If you picked the unlimited time option and plan to hang out after the trip at the mouth of the Platte River to play in Lake Michigan
Tube Equipment & Safety Tips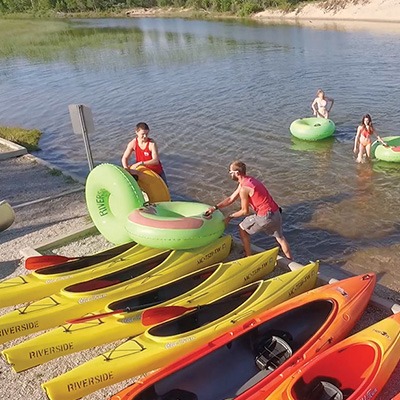 Riverside Canoes offers tubes with closed bottoms or open bottoms.
All tubes have handles, which are great for tethering tubes together or tethering children to parents.
Children 8 and under must wear a Coast Guard approved life jacket.
Ropes will be provided to tie tubes together or tether a smaller child's tube to a parent.
We offer a Babe-in-Arms option for children under 3 years to ride in a parent's lap for no charge, 4 or 5 years may ride for half-charge, based on the comfort of the parent.
Floating coolers are available for rent to haul drinks and snacks.
Tubes can be pulled behind a kayak or canoe, which is a great way to let children swim in the warm waters of the Lower Platte.
Protective water shoes are recommended for both trips, either to walk through the woods or along the gravel path.
Riverside Canoes equipment cannot go into Lake Michigan, all tubes must stop at Lake Township Park.