There is no shortage of things to do while camping in Sleeping Bear Dunes National Lakeshore. But sometimes it's helpful to get tips from a local. Whether you're looking for a family-friendly adventure, enjoying a fishing trip with your buddies or reconnecting with the teenagers in your life, we've got ideas to help you make the most of your camping trip on the Platte River. Here's a list of 15 things to do while camping in Sleeping Bear Dunes. We hope you enjoy camping in our backyard!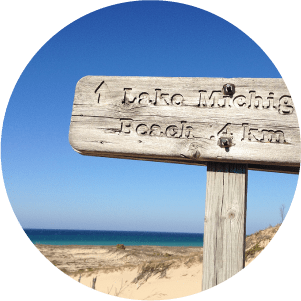 1. Take a Hike on a Sleeping Bear Dunes Trail
Traverse a trail by bike or on foot at one of many beautiful sites around Sleeping Bear Dunes and the Platte River. We love to hike The Old Indian Trail, which is close to Riverside Canoes and the Lower Platte River. Why not pick a new trail each day. You can find Sleeping Bear Dune hiking trails here.

2. Relax at the Beach
Don't feel like exercise? There are a plethora of beaches and parks where you can relax. You don't need to worry if you forgot your beach towel or need a sweatshirt for a cooler day because Riverside Canoes gift shop has everything you need. As a result, enjoy a relaxing day at Lake Township Park which is at the end of Lake Michigan Drive. It's also what we refer to as "The Mouth," where the Platte River empties into Lake Michigan. Don't forget your park pass to park in the lot or along the road.

3. Search for Petoskey Stones Along Lake Michigan's Shores
Finding a Petoskey stone is like discovering treasure. But keep this in mind: It's illegal to collect and remove any rocks along a national lakeshore. Be sure to snap a picture before you throw them back so others can spy them too! Don't worry if you can't hunt for Petoskey stones in the National park. Our gift shop has lots of Petoskey gifts and crafts for sale. They are the perfect souvenirs to bring home after camping in Sleeping Bear Dunes. If you are a rock hound and DO want to hunt for your own stones we suggest searching the shores near Point Betsie lighthouse, which is outside of the National Lakeshore.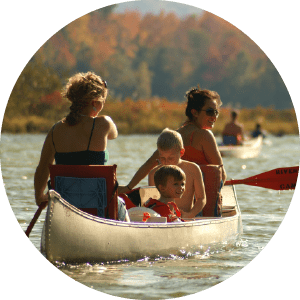 4. Take a Color Tour in the Fall
Looking for things to do while camping in Sleeping Bear Dunes in the fall? Bring your camera! Photograph the fall colors or go for a leisurely drive on a rainy day along Pierce Stocking Scenic Drive in the Sleeping Bear Dunes. If the weather is nice, you can get out and hike the dunes in several places. That parking pass you picked up at Riverside Canoes works here, as well. Purchase a 1-day, 3-day, or annual pass which gives you access to all parking lots and the scenic drive. You'll see plenty of fall color if you paddle the Platte River too.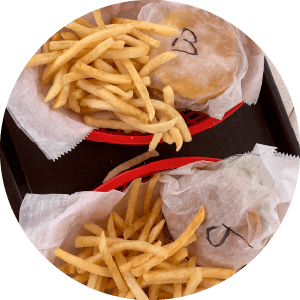 5. Eat and Drink Like a Local at a Benzie County Restaurant
There are a wide variety of delicious and unique local restaurants to try while you're camping in Benzie County. If you are in the mood for homemade Michigan wine or mead, you can check out the family and dog-friendly outdoor seating at St Ambrose Cellars in Beulah. For "comfort food in a comfortable setting," Honor's Platte River Inn can feed you six days a week! The Cabbage Shed in Elberta has a waterfront view with its famous Irish Whiskey, fish and chips, and live music. But if burgers and fries are what you crave, pop over and try our Riverside Grill (open during peak season). 
6. Explore the Dark Sky inside Sleeping Bear Dunes
Sleeping under the stars can not be beaten. But did you know Sleeping Bear Dunes offers some of the best locations for watching the night sky? The mouth of the Lower Platte River is a perfect spot to take in a meteor shower. When conditions are right, look to the north for a chance to see the Northern Lights. The National Park offers weekly Starry, Starry night programs to help you learn about the skies over the park and local legends.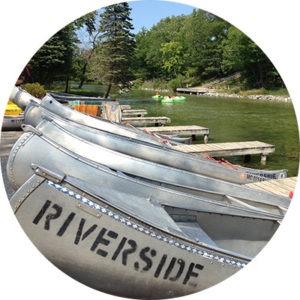 7. Paddle or Float down the Platte River, of Course!
Kayaking, Canoeing or Tubing… You can only pick one…TODAY. There is no need to blow up your tubes, coordinate vehicle pick-ups, or hike back to your car when you have Riverside Canoe's convenient rentals. As you float, paddle or pull your kids down the river, you'll notice that it has just the right mix of speed, width, and depth to keep you moving and let you relax.  Your cooler tube can be filled with delicious beverages to keep you hydrated all day. You are also sure to see some wildlife along the way.  
Try the Upper Platte River too. Are you looking for things to do with teenagers while camping?  Challenge them to navigate the twists, turns on the Upper Platte River for a trip that's a little faster and more exciting.  
8. Look for Freighters and Shipwrecks
Empire Bluff has outstanding views of Lake Michigan, allowing you the opportunity to see a freighter of today or a shipwreck of yesterday. If you're looking for more information about the ships, new and old, visit the Sleeping Bear Maritime Museum in Empire, or stay in the theme by eating at the Shipwreck Café just down the road.  
9. Take in an Old Fashioned Drive-in Movie at the Cherry Bowl Drive-In.
A night at the movies is one of the best things to do while camping. Nothing beats a chill night with the kids. Relax in your vehicle and eat some of their delicious popcorn (with real butter!) and snacks while watching a movie on the big screen. It's always a family-friendly film, and a double-feature. They are only open in the summer, but it's worth planning around. See what's playing and hours of operation at the Cherry Bowl Drive-In on their Facebook page.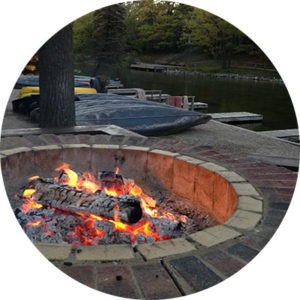 10. Roast S'mores Over the Campfire
Some of the best activities for little kids are as simple as that! If you forgot supplies, there is no need to worry! You can get everything you need at Riverside Canoes grocery store. From marshmallows to lighters to a blanket to wrap them in while they munch that gooey goodness.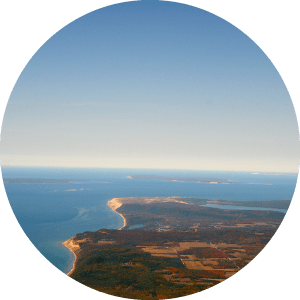 11. Share Local Legends
A trip to the Sleeping Bear Dunes isn't complete without hearing the Legend of Sleeping Bear. The ancient Chippewa legend tells the story of a mother bear and her two cubs, escaping a fire and traveling a great distance to the shores of Lake Michigan. Pick up a copy of the book at our store and read it to your kids. It will be a memory you'll all treasure. You'll also find legends for the Petoskey stone, Loon, Mackinaw Island and more, from local publisher Sleeping Bear Press.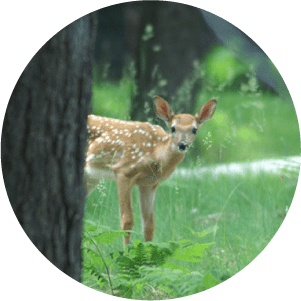 12. Discover the Magic in the Woods
The lightning bugs you see in the trees aren't fairies, but you can certainly tell the little ones they are if you wish to make some magic. Though the snipe hunt is sure to be futile, you may see deer, raccoons or nocturnal animals such as red foxes, brown bears, bats or even the elusive flying squirrel while camping in the Sleeping Bear Dunes.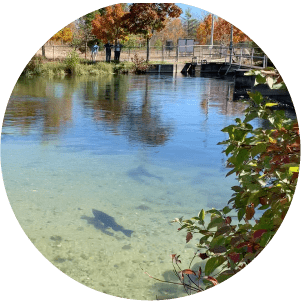 13. Go Fishing or Watch the Salmon Run
Fishing on the Platte River is a great camping activity. We have small boats for rent, along with some lures that are perfect for our area. We can also set you up with a Michigan fishing license. If you don't want to fish it's still fun to see the salmon run. The public is welcome to check out the upper or lower weir for free!  Watch the Salmon returning to spawn in September or October. Visit the upper weir egg-take station to learn about our fishery here on the beautiful Platte River.

14. Shop for a Souvenir
Where can you find Sleeping Bear Dunes souvenirs? We don't want to boast, but you couldn't come to a better place than Riverside Canoes. To memorialize your Platte River camping trip, or to thank a dog-sitter, come to the Riverside giftshop for everything you need. We have sold many young boys their first pocket knife. And we spend lots of time finding the perfect affordable gifts including shirts, hats, stickers, postcards, toys and so much more. Thanks to your Riverside shopping trip, your whole family will be happy! (Even the dog!)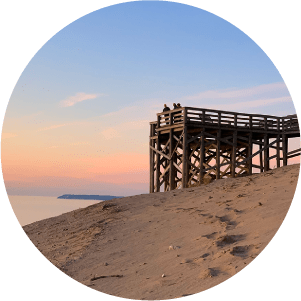 15. Watch a Spectacular Sunset
Sleeping Bear Dunes has some of the best sunsets in the world. Because of its rare location, you are sure to see a never-ending sky. No matter the weather, the view is breathtaking. Some popular places to watch the sunset in Benzie County include Point Betsie beach and Frankfort Beach. But for the view that earned us the title America's Most Beautiful Place you'll want to watch the sunset inside Sleeping Bear Dunes from overlook 9 & 10 on the Pierce Stocking Scenic Drive.
Make the Most of Your Camping Trip in Sleeping Bear Dunes
Before you can enjoy your trip you need to book it! From The Platte River Campground run by the national park service to the family-owned Betsie River Campground, the campgrounds and parks in this area fill up fast. So plan your trip early, and book as soon as they open up registration. Consider off-season camping in the fall and spring when crowds are smaller.
Riverside Canoes is open May 1 through mid-October to be a resource for canoe & kayak rentals, camp wood, gas, groceries, and so much more. We hope you'll stop by and say hi when you're looking for things to do while camping in Sleeping Bear Dunes National Lakeshore.